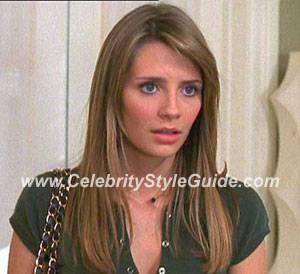 The OC Costume Desinger Karla Stevens Loves AC Chase!
Their pieces are regulars on THE OC set.
This set was also seen on the shows Ed. Judging Amy, Charmed and Gilmore Girls!
This is one of the sets Mischa Barton wore on The OC:
Delicate 14 Karat gold-filled bead chain necklace with 3/8 inch teardrop faceted amethyst pendant and turquoise accent on each side. Approximately 16 inches long with standard clasp. 14 Karat gold-filled earwire earrings with turquoise, peridot and light and dark amethysts. Faceted peridot is 1/8 inch in diameter, dark amethyst is 1/4 inch in diameter and teardrop shaped light amethyst is 3/8 inch long. Earrings hang 1 1/2 inches. Handcrafted in the U.S.A. by the designing artist.